CEOs of manufacturing companies often prioritize growth as their primary initiative, year after year. Yet, many such organizations aren't equipped with formalized processes that address product-centric challenges, nor do they have a way to provide strategic analysis to optimize the product portfolio. As a result, the grand growth initiatives of the CEOs end up being much smaller, if they change at all. This is where product portfolio management (PPM) comes into play.
See, PPM is often viewed as a competitive differentiator when it comes to an organization's digital transformation initiatives. One reason why is that many companies in the manufacturing industry haven't even begun to undergo the necessary digital transformation to remain competitive in the market. Don't believe me? Take it from Gartner in this latest report:
"Unprompted use of the word 'digital' in strategic business priorities is at a five-year high. However, only 14% of manufacturing companies are in the process of scaling a digital initiative, and just 3% have been able to harvest digital business capabilities."[1] 
Yikes, only 3% have truly succeeded, with a mere 14% still trying. If you held any doubt regarding the potential competitive advantage of PPM, this should provide clarification. Manufacturing organizations are seriously lacking when it comes to PPM capabilities and, as a result, many are paying the price—they certainly aren't coming close to their growth potential. It's time for manufacturing CEOs to reconsider an investment in a product portfolio management solution.
The benefits of PPM are wide and varied, including the ability to optimize product portfolios, better manage product activities through all lifecycle stages, ensure the product strategy's alignment to long-term business objectives, scale the business, create growth opportunities, and increase visibility to KPIs.
Essentially, PPM answers these five critical "why" questions:
Why is this investment worth the risk?
Why should this product be created?
Why will the market accept or reject it?
Why do I need more resources?
Why will the launch be delayed?
Thus, you have answers, and those answers bring you benefits. PPM gives product-centric organizations a competitive edge, as it accelerates digitization, cost management, and growth initiatives. Further, organizations achieve improved visibility and have access to a single source of truth on the product portfolio.
Do keep in mind that a product portfolio management (PPM) application cannot replace a product life cycle management (PLM) application, especially for R&D or regulatory team members—they work best together. PLM capabilities allow you to analyze product designs and formulations to ensure regulatory compliance, and PPM provides the visibility you need to see completed product validation. Each application has a distinct purpose and answers a question of "what" or "how" the product will be introduced to the market.
According to Gartner in their report, "Market Guide for Manufacturing Product Portfolio Management," manufacturing inquiries on PPM have doubled since 2015 and more than tripled between 2015 and 2017, an indication that organizations are starting to realize the crucial benefits. Ultimately, PPM provides an objective assessment of each and every idea that travels through the pipeline, resulting in a reduction of manual reviews to only those with the highest scores. Learn more about how product portfolio management is helping top performers deliver new, differentiated products by downloading the Sixth Product Portfolio Management Benchmark Study. It provides a roadmap to help your organization achieve higher levels of innovation and product profitability.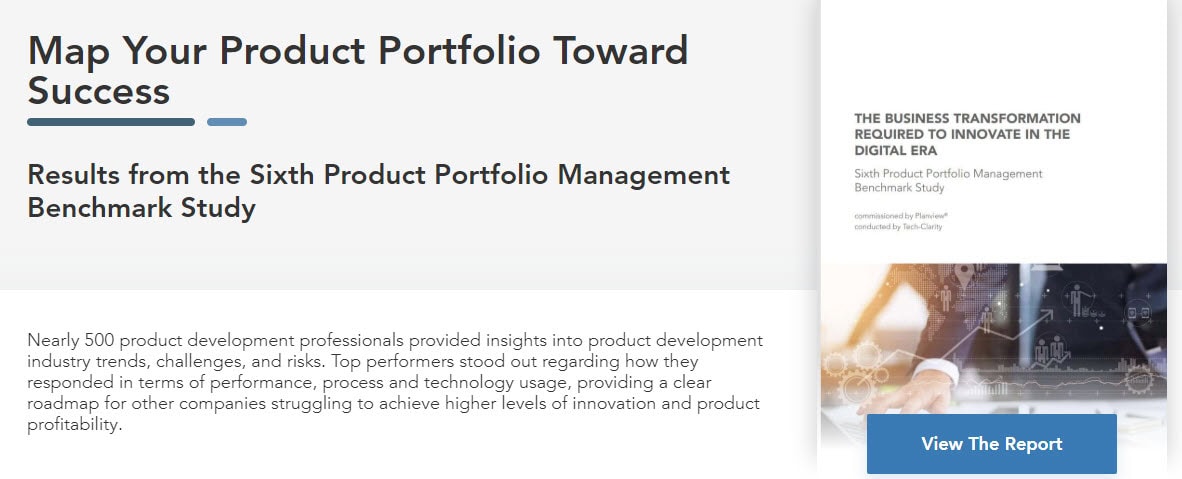 [1] "Market Guide for Manufacturing Product Portfolio Management." Gartner, 12 Oct. 2017,
www.gartner.com/doc/reprints?id=1-4XYENLG&ct=180501&st=sb. Accessed 24 Sept. 2018.