We're excited to release the latest updates to our resource management solution and predictive insight capabilities. These features ease the burden of resource planning, allow you to visualize impacts, and confidently drive your organization's roadmap. We are shedding light on your portfolios with two powerful visualization capabilities.
Impact Analysis Release
With the Impact Analysis tool, you can visualize your network of portfolios, projects, resources and applications, and gain the ability to see the ripple effect of decisions. This enables decision makers to model what the outcome of any given change will be and move from a reactive state to a predictive stance. The result is robust plans and improved risk management. IT and PMOs are better equipped to develop impact assessments of any planned or proposed portfolio change, such as reallocating a resource, retiring an application, or replacing servers or infrastructure.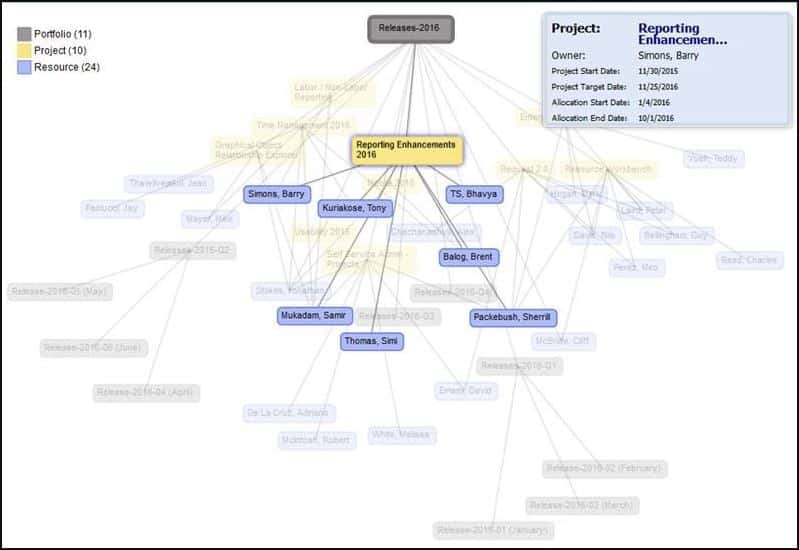 Resource Workbench Update
Your people are your most valuable asset, so Innotas created the Resource Workbench to provide a seamless, consolidated, view to manage assignments and fulfill demand. Quickly determine if your staffing is aligned with your highest value business objectives. Gain predictive insights into when to hire, who is overextended, where there is capacity, and where the bottlenecks lie.
Additional updates to our user experience and interface are also providing further capabilities to visualizing and demonstrate information and ease of use. These changes are designed to help timesheet approvals, self-service admin, and permissioning to make gathering and evaluating data easier than ever.
On behalf of our product team, we are proud to provide these latest updates to our customers, and sincerely thank all of our users and beta testers for their feedback and input that helps make this a success.