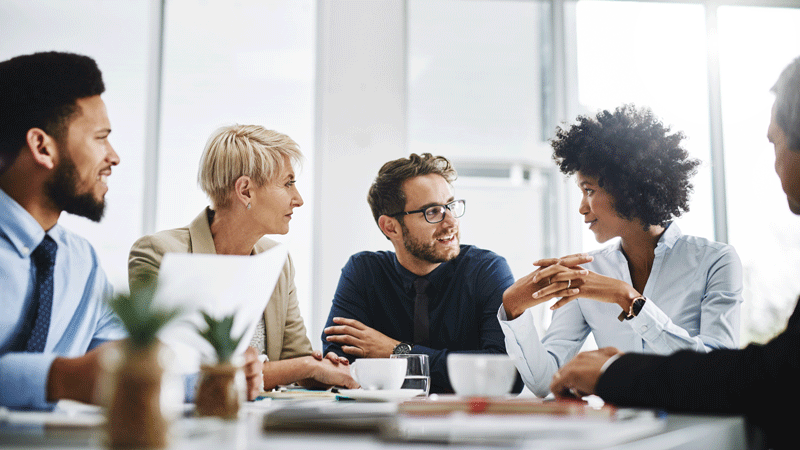 We recently sat down with Chris Marsh, Principal Research Analyst for the Workforce Productivity and Collaboration practice at 451 Research, to discuss the fundamentals of Agile Program Management. Chris answered four of the questions that we receive most often about Agile Program Management, articulating its meaning and value in a clear and concise way. Watch the eight-minute video to hear Chris's take on Agile Program Management or read on for a summary of his insights.
What is Agile Program Management
Chris defines Agile Program Management as "an outcome-based way for organizations to scale and apply Agile methodologies and practices across predominately teams of teams scenarios." Those scenarios could be various independent Agile teams across the enterprise or a more formal Agile Release Train, but in either case, require alignment, visibility, and coordination.
Chris emphasized that Agile Program Management means more than committing to daily stand-ups from program leads or managing projects on an aggregate basis. Instead, it is a practice that aligns teams on a plan and process in order to achieve a multiplier effect. Agile Program Management optimizes the way each Agile team works in the context of working with other teams toward shared outcomes and goals.
Why are more businesses looking to Agile Program Management?
According to Chris, the adoption of Agile Program Management stems from organizations' growing willingness to release ownership of outcomes to departments or functional areas. Greater independence at the team level has mainstreamed Agile beyond IT and software development into teams like Marketing and Finance. As those groups begin to use Agile methodologies and technologies, they eventually must expand into cross-functional initiatives — and that's where Agile Program Management comes in.
Agile Program Management gives disparate Agile teams, with ownership over their own outcomes, a framework in which to systematically collaborate and execute. It supports teams with a way to respond collectively with focus, velocity, and repeatability, so they don't need to develop a custom practice or set of workflows each time they work on a cross-functional initiative.
What challenges do organizations experience when establishing Agile Program Management?
When companies bring different teams together, unintentional points of friction inevitably arise. Common pain points include:
Aligning practices across different work styles. Coordinating multiple teams with varying toolsets, delivery cadences, and schedules is a much more complex dynamic than navigating the needs and preferences of a single team. Even if teams use the same applications, for instance, they often create custom workflows or views that may conflict with how other teams operate.
Managing more involved dependencies. New types of conflict arise when multiple teams work together. While Agile Program Management helps map those dependencies, it's still important to change the risk profile to account for them.
Balancing visibility and alignment with responsiveness. Agile Program Management crucially enables teams of teams to be on the same page and pointed in the same direction. But organizations should be mindful not to introduce too much process, which can impede the teams' ability to individually and collectively respond to new variables that come into the equation.
How can technology support Agile Program Management, and which functionalities are critical?
Technology can mitigate these points of friction so companies can take advantage of the opportunities inherent in bringing people together toward the same goal. Chris recommends capabilities that allow organizations to:
Manage dependencies across teams, workflows, and timelines
Understand capacity and allocate resources in a way that avoids bottlenecks
Facilitate strong communication and collaboration, so you can create the right feedback loops and respond to changes when they happen
Visualize complex processes, dependencies, and timelines, both for the teams' use as well as keeping stakeholders informed about progress
Contextualize goals and metrics as you progress toward delivery in order to understand if you're headed in the right direction, and if not, make the necessary changes
Big thanks to Chris Marsh for his time and insight. To learn how Planview AgilePlace supports Agile Program Management check out the complete discussion and demo series: